Meet our research coordinators: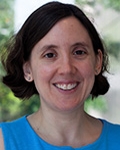 Mary Carns, MS
Research Project Manager, Rheumatology
As Research Project Manager, Mary arranges participant referrals, coordinates visits to the program, and facilitates all scleroderma-related clinical and translational research.  Originally from Rochester, MN, Mary obtained her master's degree in Human Development and Family Studies from the University of Wisconsin-Madison and her bachelor's degree in Biology and Sociology/Anthropology from Knox College.

Kathleen Dennis-Aren, MPH, CHES
Research Project Coordinator, Rheumatology
As Research Project Coordinator, Kathleen informs prospective participants about current studies, obtains consent, coordinates the collection of blood, skin biopsy, and esophageal biopsy samples, and collects clinical and demographic data for scleroderma research.  Kathleen obtained her master's degree in Public Health from Des Moines University and her bachelor's degree in Health and Exercise Science from Spring Arbor University in Michigan.

Aileen Hoffmann, MS
Research Study Coordinator, Rheumatology
As Research Study Coordinator, Aileen focuses on scleroderma esophageal studies, consenting patients for esophageal biopsies and obtaining and processing esophageal, skin, and blood samples.  She also reviews the electronic medical records to obtain clinical data for these projects.  Aileen obtained her master's degree in Biotechnology from Rush University Medical Center and her bachelor's degree in economics at DePauw University.

Julie Johnson, CCRC
Clinical Trials Coordinator, NUCATS
As Clinical Trials Coordinator for the Scleroderma Program, Julie is responsible for identifying prospective participants who may be candidates for clinical trials, explaining the study and enrolling participants, and closely following participants' progress throughout the duration of the research. She earned her certification in clinical research in 2003. Prior to beginning her career in clinical research, she had over 15 years of experience as a paramedic.